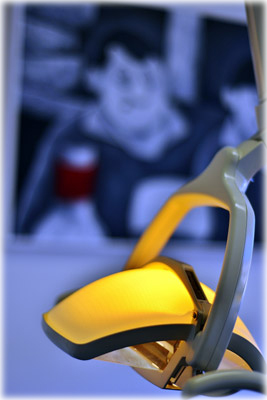 The Picture-Perfect Smile
A radiant smile. Straight. Bright. White. These are the elements of a picture-perfect smile. With today's advancements in cosmetic dentistry and Dr. Wee's added training in cosmetic dentistry, it's easier than ever to make your dream smile a reality.
Teeth Whitening — We offer an at-home whitening kit that is easy to use and lets you whiten your teeth within minutes in the comfort of your home.
Invisalign™— Straighten your teeth without having to wear unsightly wires and brackets. Clear braces are easy to maintain and will not alter your active lifestyle.
Tooth-Colored Fillings — Tooth-colored fillings offer a stronger, more attractive alternative to traditional metal fillings.
Porcelain Veneers and Bonding — These "smile lifts" fill in spaces between teeth, mend chipped teeth, reshape crooked teeth or hide unsightly stains and discolorations. They not only improve your smile, but your confidence and self esteem, as well!
Precision-Crafted Crowns and Bridges — These are highly affordable solutions to replace or support one or more missing or seriously damaged teeth.
Dental Implants are a great permanent alternative to dentures and bridges that look and work like your real teeth.